2008 Craftsman Two Stage Snow Thrower Model 88999 Review Update
Craftsman 250cc 28″ path Steerable Two Stage Snow Thrower Model 88999 Review Update
Sears item#  07188999000 Mfr. model# 88999
NOTE: This snow thrower has been replaced. NOTE: Go here to see the latest snow throwers at Sears. Check Out Our Hottest Lawn & Garden Deals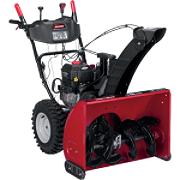 Pros: This is the flagship of the Craftsman Snowthrower line.  It has all the features of their commercial models without the high cost.
New this year is a 250cc Briggs & Stratton 4-cycle engine and Glide-Tech polymer skid shoes.  The new shoes protect your driveway from scratches.  The shoes are reversible so you can get lots of life out of them.
The power steering is nice.  It allows any adult to easily operate this snowblower.  If your spouse is a lot smaller than you and needs to clean the drive this is the snowthrower for you.  It is the easiest snow thrower to use and control.
Besides the power steering it has four-way joystick to control the discharge chute, six speeds with two reverse speeds.  It also has a clutch lock so you can control the snow blower with one hand so you can shift gears and move the chute without stopping.  This machine is large enough to handle the toughest conditions winter can throw at you.
Cons: I have no concerns about this snow thrower except the new engine.  In my opinion Tecumseh makes the best snow engines and Craftsman has opted to not use them this year.  Instead they are using the new 250cc Briggs & Stratton 4-cycle engine.  Briggs & Stratton has made many great motors over the years but since this is a new motor I would like to see it's history for a year or two before I give it a thumbs up.  I WOULD SUGGEST YOU PURCHASE THE OPTIONAL PROTECTION PLAN FOR THIS SNOW THROWER.
Update:  The 250 cc Briggs & Stratton engine is doing well.  I talked with over a dozen people who have this machine and it has plenty of power, starts easily and is very fuel efficient.
My Opinion: If you need a large snowthrower or one that's easy to use this is a good machine for your money.
Update: This is rapidly becoming the most populare snow thrower in the Sears line this year.  My Sears currently has plenty on hand but I would strongly suggest if you are thinking about purchasing this snowblower to get it done soon before they run out.